Custom ListView - ColinTreeListView *
---
Higher level "ListView", using extensions!
Update on 2019.6.5 (Version 11):

Added Translations (need platform supporting)
Fixed a Get method bug by @10MINT
Added ExtraButtonImage in ColinTreeListViewElement part of work done by @mkakozbeklem
Removed flag deprecated from all blocks

Update on 2018.7.27 (Version 10):

Update on 2018.3.10 (Version 9):

Fixed Error of Visiblility
Added ClearCache(path) & ClearAllCache() -- still in test, it should works

Update on 2018.3.4 (Version 8)

Fixed extraButtonEnabled not implemented
Added support of direct(static) functions in ColinTreeListViewElement

Update on 2018.2.25 (Version 7) THANK YOU @User81 FOR SPONSORING:

Fixed that lastClickedElement starts from 0
Fixed that images that cached by a same path would act wired when one of them is clicked
Added a extra button
Added property handler for every single element of the listview -> useage


Update on 2018.2.11 (Version 6):

Added properties of text height (both main- & sub-text)

Update on 2018.1.31 (Version 5):

Added icon text related properties
Added lastClickedElement & lastClickedIcon

Update on 2017.12.30 (Version 4):

Adapted to all platforms (ai2.appinventor.mit.edu , thunkable , etc.) There should not more NoSuchMethodError at anywhere.

Update on 2017.12.29 (version 3):

Adapted to new Appinventor (since 2017.12.27, Companion 2.45) (Fixed NoSuchMethodError)
Added properties related to image loading - AsyncImageLoad & CacheImage (that in a same path)
Added property - ScrollBottomAfterAdd
How to use
Left a VerticalArrangement or a VerticalScrollArrangement, set the width and the height as you like.
Here is the sample:


Before do anything like add a element, initialize it first:
Choose only one of the initialize method


Set the list
The "set" method required a list, and the list elements can be:

Single text element without icon:
The list element here is just a Text, and it will be shown in the element
Single text element without icon(same with the one above):
A sub-list with only one item is also allowed when creating a Single text element without icon.
Single text element with icon:
The sub-list with two item will be proceed as a Single text element with icon.
The first item is the icon path, when the second one is the text here.
Double text element with icon:
A list with at least three item, is being recognize as a Double text elemtnt with icon. And only the very first three items will be used as the parameters here. They are: icon(path), Main-text, and Sub-text

The three types of list element can exist when a ColinTreeListView is created

Sample code:

Runtime screenshot (IconMultiParams checked):

Events
Element events:

ElementClick

related property: LastClickedElement

ElementLongClick

related property: LastLongClickedElement

ElementTouchDown
ElementTouchUp

ExtraButton events:

ExtraButtonClick

related property: LastClickedExtraButton

ExtraButtonLongClick
ExtraButtonTouchDown
ExtraButtonTouchUp

Element icon events:

IconClick

related property: LastClickedIcon

IconLongClick
IconTouchDown
IconTouchUp
Methods
List operations:

AddElement
AddEmptyElement
Clear
Get
GetElement
Initialize
Initialize_Scroll (using the VerticalScrollArrangement)
RemoveElement
Set

Element operations:

SetElement
SetElementIcon
SetElementMainText
SetElementSubText
SetElementText

Other operations:
Properties
ColinTreeListView provide the real-time list layout modifing through properties
And the properties are: (the order of the properties cannot be control by code, sorry for the mess here)
AsyncImageLoad - load image in a asynchronous way
CacheImage - cache image by file path, in order to avoid wasting time and memory
ElementHeight - Height of elements
ExtraButtonBgColor
ExtraButtonEnabled - default as false, if you need a extra button, please check it (set it to true).
ExtraButtonHeight
ExtraButtonImage
ExtraButtonPaddings
ExtraButtonShape
ExtraButtonText - I would not support seting text of extra button of each elements :P
ExtraButtonTextFontBold
ExtraButtonTextFontSize
ExtraButtonWidth

IconBgColor
IconHeight
IconMultiParams - if this is checked, new format (introduced since Version 5) path||iconText would be available. Value like Photoshop.png||P will be displayed as a Text P on image Photoshop.png
IconPaddings - for larger space of text displaying
IconShape - same as one of buttons
IconTextColor
IconTextFontBold
IconTextFontSize
IconWidth

ScrollBottomAfterAdd - Scroll to bottom after an element is added - (using delay to make sure listview has been re-rendered)
SubTextColor
SubTextFontBold
SubTextFontSize
SubTextHeight (-1 for auto, -2 for fill parent)
TextColor
TextFontBold
TextFontSize
TextHeight (-1 for auto, -2 for fill parent)

TouchDownColor - Color when element is touch down, default alpha is 136/255, about 53%
UnderlineColor - An underline is the line between two elements
UnderlineWidth
WidthAfterIcon
WidthBeforeExtraButton
WidthBeforeIcon

Attached: the color when element is touch down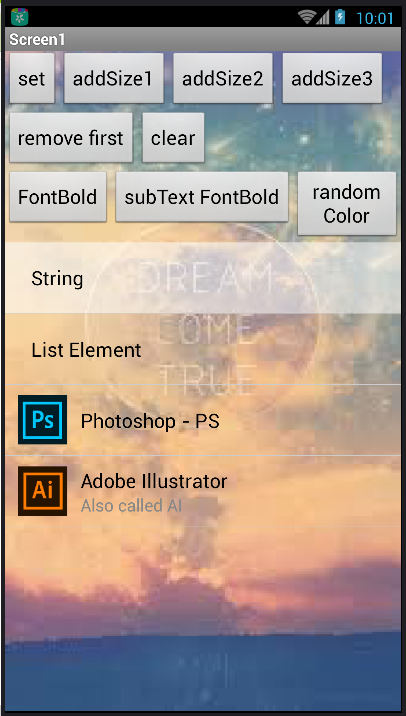 ColinTreeListViewElement
This is a handler for every single element in the listView.
Note: Before use any property, please link to a element by calling LinkToElement


Properties that not exist in ListView:
UseGlobalProperties - default as False, if you want the properties of this element not to be refresh when the ListView properties changed, please set this to True.
ElementBackgroundColor
Download
Last update 2019.6.5 (v11)